Zoom: Best Practices in a Meeting (One-Page Guide)
This guide will help your guests and you get the most out of your Zoom meeting experience.
Learn more about Zoom meetings.
---
Prepare for the meeting
1. Set up your equipment
2. Look your best
Lighting should come from in front of you or from the side, in order to best light your face
Keep your background clear of distractions
Look at your webcam, not at the screen
Use gestures and mannerisms that you would typically use in person
Participate productively
1. Make sure everyone can hear you
Use a microphone when you speak.
Make sure the microphone is on and close enough to pick up your voice, no matter what location you are in.
2. Help everyone focus
Don't have side conversations.
If you aren't talking, mute or turn off your microphone.
Avoid noisy activities like typing while your microphone is on.
3. Reduce distractions
Sit or stand somewhere with a neutral background (or use a virtual background).
Make sure your camera is on a steady surface to prevent shaking
Turn off your camera if you need to take care of business outside of the meeting (ex. someone in-person needs your attention). Turn the camera back on when you are present in the meeting again.
4. Use Zoom's tools
Zoom offers numerous features that help meeting and webinar attendees participate in meetings.
In a meeting:
These are the Zoom meeting controls referenced further below: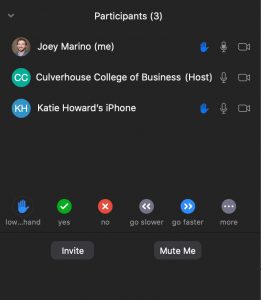 Be sure to keep yourself muted if you are not talking. The mute function is located at the far left of the Zoom meeting controls. The host of a meeting may elect to automatically mute you so as to avoid causing extraneous noise. Once you finish speaking, be sure to mute yourself again.
Use the "Chat" function to send a message to the host or other attendees, either privately (one-to-one) or publicly to the entire group, without causing a distraction. The function is located in the center of the Zoom meeting controls dashboard.
Zoom allows the ability to "raise your hand" to be recognized and called upon by a moderator. The "Raise Hand" function is located in the "Participants" display, accessed at the bottom of the Zoom meeting dashboard. More about raising your hand.
The "Participants" display also allows meeting attendees to click a "yes" or "no" button to indicate support for something discussed during the meeting, as well as to indicate whether a meeting should be sped up or slowed down.
5. Calling from a phone?
Zoom has a tutorial for best practices if you are participating in a meeting from a phone with/without using the Zoom app. See the tutorial here.
As mentioned in section 4, be sure to keep yourself muted unless speaking.
Hosting a Webinar?
Check out these resources:
---
If you are the host
Get support